About Us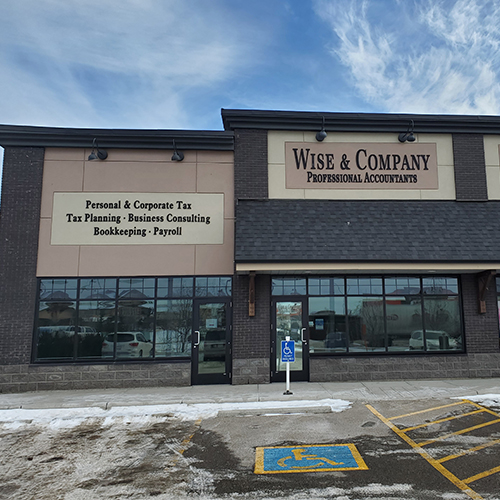 Our Office
Wise & Company Professional Accountants welcomes the opportunity to offer their professional accounting and tax expertise from their Chestermere office.
​Wise & Company opened the doors to their Chestermere office March 2011, located in one of the fastest growing commercial areas of Chestermere, Alberta and situated beside Chestermere Lake.
​At Wise & Company we work hard to provide responsive personal attention to each client. Our team of highly trained and experienced professionals are committed to providing personalized solutions to our clients businesses.
​We have a team of professionals ready and able to provide a wide selection of services.
Pat Wise
Owner and Founder
Pat has over 25 years of public practice experience, primarily providing consulting, financial and tax compliance advice. Her focus on owner-managed businesses has given Pat the expertise to advise entrepreneurs ways to manage and grow their businesses. Pat's industry experience is diverse and she specializes in corporate and personal tax matters for small and medium size businesses.
Pat has spent the past 25+ years in the accounting industry, with over 15 of those years contracting to the largest local Chartered Accounting firm in Calgary. While with this firm, Pat spent 9+ years in the small business group and 6+ years in the tax group. She was fortunate to work with some of the most brilliant accounting and tax minds in Calgary.
​Pat is active with her work and home communities, sharing her skills and interests with the following community activities:
Community Futures Wild Rose loan committee member since 2000.
 Chestermere Chamber of Commerce member.